Bay Ridge gathers to salute Ragamuffin Parade leaders
Ragamuffin Inc. President Colleen Golden, left, and her sister committee member Barbara Slattery, both predicted that this year's parade will be the best ever.
By Paula Katinas
Brooklyn Daily Eagle
The principal of a Catholic school for girls and the president of a computercompany who has donated much of his time to charitable endeavors will lead the march up Third Avenue in Bay Ridge for the 46th Annual Ragamuffin Parade for children on Sept. 29.
As part of the exciting build up to the event, Ragamuffin Inc., the parade sponsor, held a luncheon at the Bay Ridge Manor catering hall on Sept. 16 to honor Grand Marshal Arlene Figaro, principal of Visitation Academy, and Ragamuffin Man of the Year John Abi-Habib, president and C.E.O. of MSI Net, Inc.
Bay Ridge's elite turned out in large numbers to congratulate Figaro and Abi-Habib and to hear about the plans for the big parade. The Ragamuffin Parade is one of the biggest events in Brooklyn. Thousands of children participate in the march wearing cute, colorful, homemade costumes.
U.S. Rep. Michael Grimm, state assembly candidate Tom McCarthy, Assemblywoman Nicole Malliotakis, and state Sen. Marty Golden (left to right) were all on hand to congratulate the honorees.
The parade is all about making children happy, according to Ragamuffin Inc. President Colleen Golden. "There's nothing better that seeing the smiles on the children's faces as they march," she said.
Figaro was chosen to be the grand marshal of a kid's parade because of her dedication to children, Golden said. "She cares so much about children and about education," Golden said. Figaro has been at the helm of Visitation Academy for 10 years. The school, located at 8902 Ridge Boulevard, educates girls from pre-kindergarten to eighth grade. "When I was told I was to be the grand marshal, I was overwhelmed," Figaro said.
John Abi-Habib, the Ragamuffin man of the year, receives his plaque from Colleen Golden, president of Ragamuffin Inc., the parade sponsor.
Golden described Abi-Habib as a man who "epitomizes the word friend." Abi-Habib has often donated his time behind the scenes to assisting people in the community who need a helping hand, Golden said. In addition to running his business, Abi-Habib is involved in numerous civic organizations, including the Salaam Club of New York, a group founded by Lebanese Christians. "He has so much energy. I don't know how he does it!" Golden said.
Laurie Windsor, president of the School District 20 Community Education Council, plans to march in the parade, as does her husband, former Bay Ridge Community Council president Andrew Windsor.
Abi-Habib's company, MSI Net Inc., headquartered at 415 86th St., installs computer systems, repairs computers, and serves as a troubleshooter in the event of Internet problems. MSI Net Inc. installed the computer systems in many of Bay Ridge's schools and institutions.
In his acceptance speech, Abi-Habib, whose daughter Jenna is a Visitation Academy student, paid tribute to Figaro. "You have done so much for Catholic education," he told her.
Abi-Habib said he was pleased to see such a huge turnout for the luncheon. The main ballroom of the manor was jammed with people. "I'm very, very happy to see all of you. I can't thank you enough," he said.
Abi-Habib also announced that the Salaam Club plans to donate all of the proceeds from its annual dinner this year to Saint Jude's Children's Research Hospital in Atlanta. The dinner will take place on Dec. 8 at the Water's Edge, a banquet hall in Long Island City.
Grand Marshal Arlene Figaro accepts an award from Assemblyman Alec Brook-Krasny. (Photos by Paula Katinas)
Bay Ridge's elected officials congratulated Figaro and Abi-Habib and presented the honorees with plaques and certificates. U.S. Rep. Michael Grimm. State Sen. Marty Golden, state assembly members Alec Brook-Krasny and Nicole Malliotakis, and Councilman Vincent Gentile each took a turn at the microphone to pay tribute to the grand marshal and man of the year.
The 46th Annual Ragamuffin Parade will take place on Saturday, Sept. 29, 1 p.m., on Third Avenue. The parade route starts at 76thStreet and ends at 92nd Street.
__________________________________________________________
MSI Net Meets Business Technology Needs
May 10, 2012

BAY RIDGE – The experts at MSI Net, Inc. know everything there is to know about computer and the technology that runs them.
The company has been helping its clients establish and maintain technology systems for 25 years.
Founded by Bay Ridge resident John Abi-Habib, MSI Net, Inc. is headquartered at 415 86th St., an office humming with technology experts busy helping their clients.
Abi-Habib, who is the firm's CEO, established the company as a one-stop shopping place for business owners looking to navigate the world of Internet technology.
The experts at MSI Net, Inc. can install a computer system in an office, restaurant, doctor's office or any other type of office. They meet the individual needs of the business owner. Everyone's needs are different and MSI folks can satisfy everyone.
A restaurateur wants to compute system that will enable a waiter to press a key on the screen to order onion soup for a dinner, while a physician would need a system that allows an assistant to book an appointment or check electronic medical record for a patient.
MSI Net, Inc also installs computer systems in schools. Over the past 25 years, Abi-Habib and his workers have helped scores of schools with their Internet & web filtering needs, even for parents to check their kids homework and grades online.
The firm has helped schools, medical institutions, law offices, small businesses, restaurants, and religious institutions.
But the service doesn't end when the computer system is installed. MSI Net, Inc. experts don't just put the computers in and run away. They establish an ongoing relationship with the client, check in with that client periodically, manage their networks & applications and are available to troubleshoot if the need arises. Help is a phone call away for a client with a technology problem.
Recently, a Catholic school on Staten Island had trouble gaining access to the Internet. Within 15 minutes, an MSI Net, Inc. technician had solved the problem.
The firm can set up a data center, Internet service, e-mail systems, and can train people how to use technology.
If your company has wireless Internet needs, MSI Net, Inc. can handle them.
The company can also set up a video conferencing system for businesses requiring long distance interactions.
MSI Net, Inc. is technology partner with several companies that are known worldwide, including Hewlett-Packard, Cisco, Microsoft, Dell, and SonicWALL.
For more information, call (718) 921-6136.
__________________________________________________________

Business Owners: Government's Squeezing Us Dry!
April 12, 2012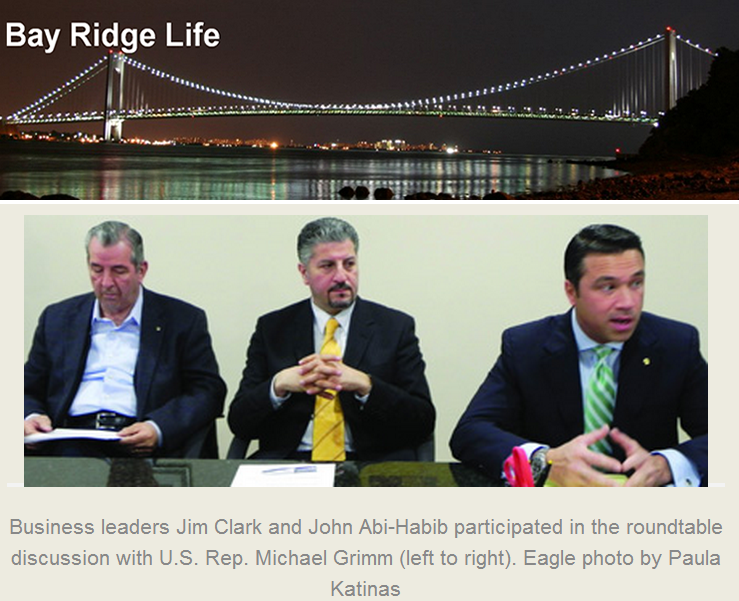 By Paula Katinas
"This is one of the few moments in your life when you are meeting with an elected official and he's not doing all of the talking!" U.S. Rep. Michael Grimm told a group of business owners he had invited to a roundtable discussion he was hosting on April 11.
Grimm made it clear to the business owners that he wanted to meet with them to hear what their concerns were, how hard it is to run a business in New York City, and about how it could be made easier.
Grimm said he wanted to hear from the businesses owners about their problems so that if he meets with Governor Andrew Cuomo or Mayor Michael Bloomberg and they tell him about all that the state and city are doing to help small merchants, "I can whip out a laundry list."
Nineteen owners of small businesses attended the congressman's Brooklyn Business Roundtable, which took place in a conference room at Sarta Real Estate at 7317 13th Ave.
The diverse group included restaurant owners, pharmacists, deli owners, accountants, lawyers and leaders of business organizations such as Jim Clark, president of the Bay Ridge Fifth Avenue Business Improvement District; and Bob Howe, president of the Merchants of Third Avenue.
Despite the diversity, the business owners all agreed about the biggest problem they face. It could be summed up in one word: regulations.
There are too many licenses, regulations and fees that a business owner is required to pay to city and state agencies — it could make your head spin, the owners said.
"I'm in business 46 years," John Gallucci, owner of Globe Drug Store and Surgical Supplies on 86th Street, told Grimm. "When I started out, I had one license. Now, I need all kinds of licenses. I need a license for second-hand furniture. I need an electronic license because I have a blood pressure machine. I don't understand this at all."
Liz Pristouris, owner of the New Parkway Restaurant on 13th Avenue, said she believes government regulators themselves aren't even sure why there are so many requirements.
"They make things up as they go along," she said.
Dominic Vaccaro, owner of Ristorante Vaccaro on Fort Hamilton Parkway, charged that it's all just a money-making scheme on the part of government.
"They don't know how to squeeze money out of us in taxes anymore, so they're over-regulating us," he said.
Restaurant owners face particular challenges, according to Robert Long, owner of Yellow Hook Grille on Third Avenue. Long said the least little thing a New York City Department of Health inspector finds, such as a melted ice cube on the floor in the kitchen, can mean huge fines.
"It's a sad thing when my employees make more money than I do," he said.
Another big challenge faced by restaurant owners is unfair competition from sidewalk food vendors, according to business owners.
The vendors bring large food trucks and park them on the sidewalk, taking business away from restaurants, whose owners pay taxes, fees, and other costs that the vendors don't have to pay, business owners said.
Grimm said he has sympathy for restaurant owners.
"The food carts are putting restaurants at a huge disadvantage. Restaurants have to have insurance. They have to deal with health inspectors," he said.
The sheer size of the food vendors' trucks is astounding, according to Gallucci.
"The laws were written when these places were pretzel stands and hot dog carts. Now, they're mobile restaurants," he said.
"They're like full-service restaurants," Patrick Condren, executive director of both the 86th Street and Fifth Avenue's Business Improvement Districts.
The vendors also leave behind litter, for which the property owner is responsible, Clark said.
"If he has a cart and I own the property, I get the summons if there grease from the cart that spills onto the sidewalk. The property owner has no say if a guy wants to come along and put up a food cart in front of his building," he said.
"Rent is a big issue," said John Abi-Habib, CEO of MSI Net Inc. on 86th Street. "The business has to pay rent and the food cart guy doesn't. A friend of mine told me that when those carts are outside his place, his business goes down by 50 percent," he said.
"I don't know why we're still in business," Arlene Rutuelo, owner of Nordic Delicacies, said. "We should open up a cart someplace!"
Grimm placed the blame on government agencies.
"You're paying all these fees. You're jumping through all these hoops and they're not even doing their job," he told the business owners.
Grimm said his aim was to work to create a more business-friendly attitude on the part of government. Small business owners are important to the nation's economy, he said.
"Sixty-five percent of the jobs that are created in this country are created by small business owners," he said.
At the request of a reporter, Grimm conducted an informal poll of the business owners around the table on the number of people they had working for them. The number was 400.
__________________________________________________________
Community Helps Credit Union Celebrate 78th Year
April 12, 2012
A credit union that was born in the midst of the nation's Great Depression in the 1930s is still alive and kicking in 2012.
The Bay Ridge Federal Credit Union marked its 78th anniversary by throwing a dinner party at the Bay Ridge Manor on April 4 and inviting hundreds of the community's movers and shakers to help celebrate the milestone.
The credit union was established in 1934. Its total assets for the year 2011 were more than $152 million, according to the firm's financial report.
New York State Supreme Court justices, elected officials and Community Board 10 members were among the people enjoying a buffet dinner of calamari, salad, penne pasta, chicken francese, rice, turkey and roast beef in the Manor's main ballroom.
Gene Brody, president and CEO of the credit union, said credit unions are obligated by law to hold an annual membership meeting. But instead of a dry meeting in a boardroom, Brody and the credit union's Board of Directors like to throw an anniversary party each year and have that double as the annual meeting.
"We thought, 'Why not throw a party and invite all of our friends to come?'" Brody said.
There was business conducted at the party, however. The Board of Directors was re-elected and the annual financial report was read aloud. The members of the Board of Directors are: Dr. Steven Dickert, chairman; Gene Brody, president and CEO; Alan Brody, director; Bruce Butchen, director; and John Abi-Habib, director. The credit union issued $115,577,084 in loans to its members in 2011, according to the financial report.
Brody made news when he announced that the credit union would be pulling up stakes and moving its headquarters.
The credit union, which has been located at 9000 Fourth Ave. for 20 years, is relocating to a new, 12,500-square-foot space on 86th Street between 17th and 18th avenues in Bensonhurst.
"But we will always be Bay Ridge," Brody said. "And we will always be called Bay Ridge Federal Credit Union."
__________________________________________________________
The CURE Community Leaders
John Abi-Habib is the Chief Executive Officer of MSI Net Inc, a New York based Networking, Communication, Data Centers, Disaster Recovery sites and Wireless technology Corporation.
Founded in 1987 as a banking services firm, designed and oversaw the development of trading floors, private banking solutions, developed applications for the South American, Asian, European, American and Middle Eastern markets.
Now MSI stretches its services to the education, government, banking and professional vertical markets.
Mr. Abi-Habib holds a Masters Degree in Management Information Systems/Computer Science from Brooklyn College, a Bachelors Degree in Computer Science and has minored in Accounting and Finance. In the 1980's early 1990's, Mr. Abi-Habib served as an Adjunct Professor in Computer Science department at St. John's University, Brooklyn College, the College of Staten Island and Manhattan Borough Community College.
Mr. Abi-Habib serves as a Supervisory board member of the Bay Ridge Federal Credit union, an advisory board member of the State University Of New York (SUNY BEOC) and served as a member of The Board of Trustees of Adelphi Academy, and had been a member of ABANA banking association for over 9 years.
He was invited to and testified before the Council of the City of New York on the topic of Emerging Technology in New York City. Additionally, Mr. Abi-Habib has participated as a panelist and guest lecturer on topics of technology, emerging markets, banking, technology in finance and education for a variety of New York based organizations and corporations both in the public and private sectors. Mr. Abi-Habib served on the Executive board and as Chairman of the Communication and Public Relations Committee at NYC Community Board 10.
In addition, a cofounder and key player in creating the 86th Street Business Improvement District of Bay Ridge, serves on the Executive Board of Directors and chairman of the advertising committee, of The Fifth Avenue Board Of Trade and board member of The Salaam Club Of New York. He also served as a member of the Borough President Task Force on 5th Avenue Business Improvement. He is a former Co-Chairman of the Essay Contest Committee of the Bay Ridge Community Council. Most importantly, he has helped create a great awareness in the need for an effective response mechanism in our community. This has resulted in the creation of The Unity Task Force in 2000 and after 9/11 the creation of CERT (Community Emergency Response Team).
Mr. Abi-Habib created the annual Festival of the Middle Eastern Churches, with over 5000 attendees from the various different ethnic and religious communities of Brooklyn. Mr. Abi-Habib has served as Chairman of the Festival of Middle Eastern Churches since it's inception in 1999. Mr. Abi-Habib has dedicated the last fifteen years to encouraging groups in the community to become more involved in civic, community and political affairs and events by providing services, civic education workshops, candidate forums, arranging meetings and festivals, and planning positive and constructive prayer services and prayer walks within the community.
__________________________________________________________
Friends of St. Finbar's Is a Community Organization
October 19th 2002

by Linda Busetti
As guests entered the third grade class at St. Finbars's school, Bath Beach, children jumped to their feet joyfully shouting, "Thank you for the computers!"
Benefactor Larry Morrish and other "Friends at St. Finbar" returned to the school recently to see how their joint efforts had transformed the school. Morrish first became aware of St. Finbar's desperate need for new computers last March on a tour of the school prior to a patriotic assembly that included Xaverian H.S. Band from Bay Ridge and soldiers from Fort Hamilton. "We went to St. Finbar's for a patriotic program and saw the poor condition of the computers there," Morrish said. He impulsively announced then and there that Xaverian's president Dr. Sal Ferrera, would donate computers to St. Finbar.
The gesture was the kind of thing that Morrish is known for, Ferrera said, but Morrish knew he could deliver on the promise. Thirty-five computers that Xaverian was planning to replace were donated to St. Finbar. "In Catholic education, we have to support each other, Ferrera said. Morrish has a talent for bringing people together to do good things.
Lt. Col. Arnold Piper, Commander of U.S. Army Recruiting for New York, made sure that 16 more computers were donated to St. Finbar's school.
Through a monetary grant from Maimonides Medical Center, Brooklyn, Dr. Nicoletta Pallotta donated tables and chairs for all the new computer work stations, saving the school a major expense.
St. Finbar's principal Sister Hyacinth Serravillo, CSAC, explained that changing neighborhood demographics have affected St. Finbar's enrollment in recent years. Where there were once four classes at each grade level, there are now 178 students in the entire school.
The school's 12 old computers were "hardly better than typewriters", Morrish said. Through the combined efforts of the Friends of St. Finbar, there are now state-of-the-art computers throughout the school – two or three in every classroom, two in the library, three in a faculty lounge and 12 in a computer center.
The project didn't end with the donation of computers. Installing the equipment would have created a substantial expense to the school. One of the "Friends", John Abi-Habib, and his company MSI Net, Inc., came through again. Habib, a member of Our Lady of Lebanon parish, Brooklyn Heights, has long been active in the community. Morrish told Habib about the problem at St. Finbar and Habib, who previously donated his company's time and computers to St. Francis Cabrini school, Bensonhurst, was eager to help. This summer MSI Net workers wired St. Finbar's entire school for the new computers, averaging three men each work day from July until the opening of school in September. They carefully installed wires under moldings near ceilings, rather than along the floor where the children might trip over them. Wiring in the new computer lab is stored under the flooring.
Sister Hyacinth praised Morrish's contributions to St. Finbar. She recalled that when he delivered Christmas trees to the school last year, he had asked, "Is there something we can do for the school?"
Morrish is passionate about preserving Catholic schools. He mourns the loss of Our Lady of Perpetual Help H.S. several years ago. "We are not going to stand by and let any of our Catholic schools close without a fight," he said. Morrish said the "Friends of St. Finbar's" were "rallying to encourage " the St. Finbar community, especially the clergy, "the true fiber of Catholic education." Three Sisters of the Catholic Apostolate, including Sister Hyacinth, serve St. Finbar's school.
"The new computers have opened up the whole world to our students," Father Joseph Holcomb, pastor said.
St. Finbar's faculty is also very enthusiastic about their new teaching tools. "We met with faculty during the summer to put together a schedule of how the computers would be incorporated into lesson plans," Habid said. Three computers were installed in the teacher's lounge so that they can have access during their free periods. Habib said parents can't help but he impressed by the school's substantial technology upgrades. He said they should also know that children's access to the Internet at St. Finbar's is secure and that inappropriate sites are blocked.
A tour of the school demonstrated how the computers are being used at all grade levels. In the Pre-K classroom, little Gabriella Albano had no trouble navigating the Sesame Street Web site. Second-grader Patrick Eichman explained how he had used the Internet to find out about the history of Rome. First-graders Nicholas Mullen and Brianna Lanebille showed Father Holcomb how they can ''paint" with the computer. Teachers are not the only ones using the new PowerPoint application. Fifth and Sixth-graders are using PowerPoint for class presentations, Habib said.
Two new computers are available to students in the second floor library. Putting the library's card catalog on computer is under consideration, Habid said. A sparkling new state of-the-art computer center with color printers and wide-screen television for video presentations is used to instruct students in computer skills.
Eight-graders Michael DeLuca and Nicholas Loria were using their classroom computer to learn about fractions. Habib spoke to the sixth grade class about how they can access the Internet "to see how people live" in countries they are studying in social studies, find out the current weather in a country, or print out maps.
Fourth-graders Valerie Russo and Samantha Fasanello were using the computer to translate Spanish into English. Third-graders gathered around Sister Hyacinth to show her how they had used the computer to help them with a lesson about proper and common nouns.
"Now St. Finbar is on the upswing," Morrish said. "People have to sep up to the plate to meet the needs of Catholic schools where there are financial stresses and strains," Morrish said after the tour. The Friends of St. Finbar demonstrated how people can pool their time, know-how and generosity to benefit children in the diocese. Morrish challenges others in the diocese to also "step up to the plate".