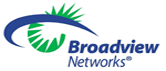 MSI Net provides Broadview's Cloud Data Backup and Recovery services which is network-based solution that creates a backup of the data on all of your company's servers and computers regardless of location and allows you to quickly restore files on-demand.
By providing a secure off-site disaster recovery and automatic, on-demand provisioning of extra storage we can manage your data with a guar tee when it comes to restoring your data.
Workstations and server data from anywhere in the world; Therefore, you can retrieve your lost or your if your server data gets corrupted, your data doesn't because you can quickly and easily recover your data and restore normal operations.